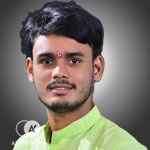 Astro Devrat
Vedic

Notify me
Hindi
---
Delhi
Money Back
Guarantee
Verified Expert
Astrologers
100% Secure
Payments
About Me
I am an award-winning astrologer with a specialization in Vedic astrology and Vastu. I try to solve the problems of people related to business, children, house, career, business, marriage, happiness, and other everyday life matters. I have exceptional expertise in calculating horoscopes and guiding people based on intuition. I conduct my readings in accordance with the ethics of astrology in order to bring stability to people's lives. However, my main goal is to provide you with clarity and insight into your life, as well as to empower you with spiritual knowledge. The remedies I offer are simple, efficient, and have a high degree of accuracy. Additionally, my clients are satisfied with the outcomes after following them. I believe in giving my clients personalized attention and building strong relationships with them.
Masters in Jyotish
2021Varanasi, Uttar Pradesh
At a well-known university for learning Sanskrit and Vedas, I received a gold medal for my MA or master's degree in Jyotish (Astrology).