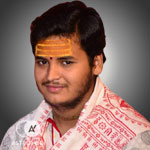 Astro Devesh
Vedic

Notify me
Hindi
---
Lucknow
Money Back
Guarantee
Verified Expert
Astrologers
100% Secure
Payments
About Me
I am a vedic astrologer. Born with some spiritual energies and a guidance of Universe , Every Modality has transformed him into a new version of himself Every Day
His motive is to connect with every single persons energy and try to get solution of any kind of problems in your life sector , it could be Relationship , career ,money ,
Finance or any other questions pop up in your mind every second time. I love helping people and guiding them to what extend he can help them to lead a happy life
My main aim of my life to heal people through my guidance in love, Finance, Marriage, Investment, Business, etc. I believe every human is unique and their struggles are also unique.
I am here to listen to you, without being judgemental and provide best solutions that help you in life.