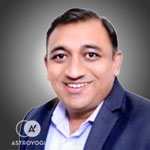 Astro Debesh
Vedic
English, Hindi
---
Delhi
Money Back
Guarantee
Verified Expert
Astrologers
100% Secure
Payments
About Me
I am a well-known astrologer who specialises in Vedic Astrology (Parashari Jyotish) and other astrological services such as Gems, Numerology, Vastu, and Prashna Kundli. Born and raised in a Brahmin family, I benefited from my father's and grandfather's extensive knowledge of astrology, both of whom were renowned astrologers of their time. My areas of expertise include business, careers, finance, marriage, and love life relationships. I have over 8 years of experience, and most of my predictions, suggestions, and horoscope readings have proven to be correct. I've given advice and counsel to countless clients from all over the country and the world. I am a firm believer in fate and the influence of the planets on it. I offer remedies based on personal information such as date of birth, time of birth, and place of birth. I believe that the planetary movements at the time of one's birth have an impact on our current lives.
Jyotish Acharya
2018New Delhi
I earned a distinction in Jyotish Acharya studies at one of India's most prestigious astrological science institutions.
Bachelor of Tech Engineering
2001New Delhi
I have done my technical education in engineering from a prestigious university in Delhi with first class distinction and I have been a meritorious scholar throughout my life.
Masters in Technology
2004New Delhi
I have also done my post-graduate studies in technical education in engineering from the same university as my bachelor's.