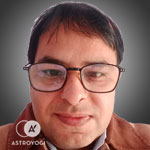 Pt Bhragunandan
Vedic
English, Hindi
---
Lucknow
Money Back
Guarantee
Verified Expert
Astrologers
100% Secure
Payments
About Me
I am a professional Vedic Astrologer with an experience of more than 12 years in the field of astrology. I have constantly been providing proper solutions to people's problems through my knowledge of astrology through Vedic astrology. In addition to Vedic astrology, I have expertise in Numerology, Mantra suggestion, Reiki, and Yantra. My main areas of expertise are career counseling, marriage counseling, love and relationship counseling, remedy counseling, and gemstone counseling. I also consult on education, progeny, real estate, and international travel. Aside from Vedic astrology, I have a lot of experience helping people with their problems using gemology, mantras, and remedy suggestions. I am constantly increasing my knowledge in Indian Vedic astrology provides reliable solutions for the lifelong and ongoing troubles people face. I have helped thousands of people through my immense experience in astrology. I have helped thousands of people, and my clients are spread across India and other countries.
Masters in Jyotish (Astrology)
2021Lucknow, Uttar Pradesh
I am currently pursuing a master's degree in Jyotish (Vedic Astrology) from a well-known university.
Certificate in Reiki
2022Lucknow, Uttar Pradesh
I completed my certificate in professional Reiki healing (Second Level) at a well-known training center under the tutelage of renowned masters.
Masters in Economics
2012Kanpur, Uttar Pradesh
I earned my master's degree in economics from a reputable Indian university.
Bachelor's in Arts
2005Lucknow, Uttar Pradesh
I completed my bachelor's in arts from a well-established university.